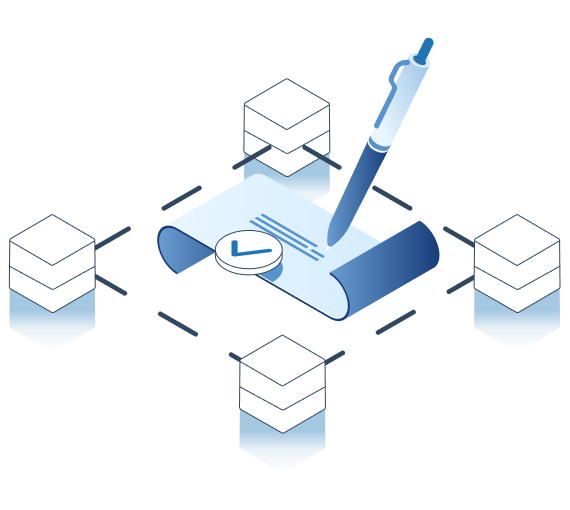 Efficient Transactions
Our electronic signature solution makes signing documents online effortless. Whether it's contracts, agreements, or any form of digital paperwork, our solution facilitates a smooth signing process that saves time, reduces costs, and increases productivity. Say goodbye to cumbersome paperwork and embrace the convenience of digital signatures.
Top-tier Security
We prioritize the security and legality of your digital transactions. Our electronic signature module employs advanced encryption technologies and complies with international e-signature laws, ensuring the utmost security and legal compliance. Rest assured that your documents are protected throughout the signing process.
Universal Integration
Our electronic signature solution is designed for universal integration. Whether your project is a web, mobile, or desktop application, our module seamlessly integrates into your existing systems. It's the perfect solution for developers seeking a reliable, high-quality electronic signature system that fits their preferred platform.
Customizable Features
We understand that every business has unique requirements. Our electronic signature solution provides a range of customizable features to tailor the module to your specific needs. From controlling the signature order to customizing email notifications, you have the flexibility to customize the system according to your business processes.
Dedicated Customer Support
When you choose our electronic signature solution, you gain access to our dedicated customer support team. Our professionals are ready to guide you through the integration process and provide continuous support, ensuring a smooth experience with our electronic signature solution. We are committed to your success.
Experience the Power of Electronic Signatures
Our electronic signature solution represents a significant advancement in secure, adaptable, and user-friendly digital signing. It is a must-have tool for businesses seeking to streamline their document signing process, improve efficiency, and enhance customer experiences.
Don't let cumbersome paperwork slow down your business. Join the growing community of developers who have embraced electronic signatures for their document workflows. Simplify your transactions today with our reliable electronic signature solution.
To find out more or to integrate our electronic signature solution into your project, please contact us at
sales@sensenrespond.com
. Simplify your transactions, secure your documents, and embrace the power of electronic signatures.