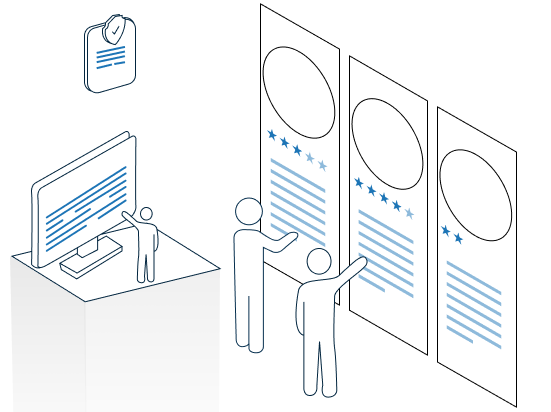 Efficient Candidate Review
Gone are the days of sifting through stacks of resumes and spending hours on candidate evaluations. With Live Resumes, hiring teams can quickly and effectively review candidates through our intuitive platform. Our solution presents candidate profiles in a user-friendly format, allowing you to assess their qualifications, experience, and skills at a glance.
Dynamic and Interactive Profiles
Live Resumes offers dynamic and interactive candidate profiles that go beyond traditional resumes. Candidates can showcase their skills, achievements, and portfolios in an engaging manner. Our platform supports multimedia elements, such as videos, projects, and testimonials, enabling candidates to present a comprehensive picture of their capabilities.
Seamless Collaboration and Feedback
Collaboration among hiring team members is critical during the candidate review process, and Live Resumes facilitates seamless collaboration. Hiring team members can share feedback, leave comments, and rate candidates directly within the platform. This streamlined approach promotes efficient communication and ensures that all team members are aligned in the hiring decision-making process.
Time-Saving Automation
Live Resumes incorporates automation to save you valuable time during candidate evaluations. Our platform can automatically extract relevant information from candidate profiles and compare it against job requirements, enabling you to identify top candidates quickly. This automation eliminates manual data entry and accelerates the initial screening process.
Advanced Search and Filtering
Finding the ideal candidate for your organization becomes effortless with Live Resumes' advanced search and filtering capabilities. Our platform allows you to define specific criteria, such as skills, experience, education, and location, to quickly narrow down the candidate pool. Refine your search and focus on the most relevant candidates, saving time and effort in the hiring process.
Enhanced Candidate Engagement
Live Resumes fosters enhanced candidate engagement throughout the hiring journey. Candidates can receive notifications, track their application progress, and engage in real-time communication with hiring teams. This transparent and interactive experience promotes a positive candidate experience, reflecting your organization's commitment to a modern and efficient hiring process.
Experience the Power of Live Resumes
Transform your candidate hiring process with Live Resumes. Empower your hiring teams to review candidates faster, collaborate seamlessly, and make data-driven hiring decisions. Join the growing community of satisfied users who have embraced the new-age version of the candidate hiring process with Live Resumes.